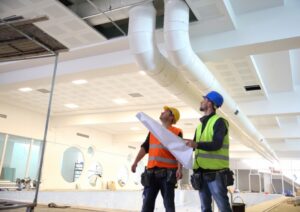 When you're looking for help with your home HVAC system, your needs are pretty basic: the space is small, there are only a few people using it, and the system is a standard home air conditioner or heater. But when you have a commercial building, things get much more complex. A technician who has a lot of experience with home heating and cooling systems might not be trained, qualified, or experienced with the needs of a building like yours. How can you determine whether a technician is the right person for your commercial building's HVAC needs? Here are some things to look for.
Experience
A commercial building containing one or more businesses, or many apartments, is very different from a single-family home. The HVAC system itself is different, often including rooftop units and a complex system for the drainage of condensate, as well as a unique network of ducts. Ventilation and humidity control are critical in a commercial setting, when they are often secondary or even completely overlooked in a home setting.
But it's not just the HVAC system that's different. The needs of the building's users are different as well. Experience in commercial buildings means experience with minimizing business interruptions and working smoothly and unobtrusively around tenants, employees, and customers.
Qualifications
A commercial HVAC team will have highly-trained technicians. One thing to look for is certification from NATE, North American Technician Excellence, an organization that does training, testing, and certification for HVAC technicians throughout the country. When a technician is NATE certified, you know that they have the best training, and because they are required to be re-certified every two years, you can be sure their qualifications are up-to-date.
Comprehensive Services
While it's absolutely essential for your HVAC system to be professionally installed, it's frustrating if the installation team doesn't offer any other services. It's best to have a team you know you can rely on for everything your commercial HVAC system needs: installation, maintenance, repair, expansion, and even replacement. With a consistent partner in the care of your building's heating, cooling, and air quality systems, you'll never have to worry about who to call, and you won't be trying to find a new service company when you have an urgent need.
Availability
Those urgent needs do arise from time to time. While you might be able to wait a bit to have your home's heater or air conditioner repaired, it's a very different situation when a building full of people and businesses is relying on that HVAC system. You want to know you can get a technician in at any time, so 24/7 services are a must.
When you have any needs relating to commercial HVAC in Kingsburg, CA, our team is ready to spring into action.

We strive to provide honest answers and solutions to the problems our customers' experience while remaining highly competitive in price, and offer the fastest turnaround you can find! Contact Donald P. Dick Air Conditioning to schedule commercial HVAC service or sign up for Mr. Cool's Super Saver Program.