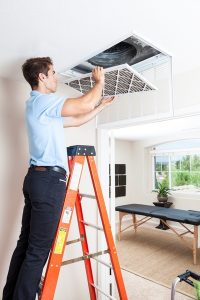 The fall season doesn't leave us battling with pollen nearly as much as the spring season does. However, we do still see a lot of extra airborne debris in our area, and that debris can easily make its way into your home.
Smoke from recent fires, dirt, and dust kicked up by high winds, and even animal dander can all make their way into your home and start to mess with your home's indoor air quality. You shouldn't have to just bear through this though. When your indoor air quality isn't at its best, it means it is time to talk to one of our experts about how to clear things up. We have the systems and services you need to address the biggest Fresno indoor air quality issues in your house.
Your indoor air quality is a big factor to consider when you are thinking about both your home comfort and health. Poor indoor air quality can make things pretty uncomfortable while cleaner air in your home can make things much more pleasant. If you are trying to clean up your home's airflow, we can help with any of the following options.
1. Duct Testing and Sealing
If you have a ducted HVAC system in your home then you need to make sure that your ductwork is in good condition. Leaky ducts can mess with your home comfort and allow unfiltered air to enter your home too. If you think there may be an issue in your ductwork, it is a good idea to schedule duct testing to assess the issue and then, if needed, duct sealing to address any small leaks or holes that have developed.
2. Installation of Air Filters and Purifiers
The filter that is a part of your HVAC system keeps dirt and debris out of your air conditioner and heater. To keep debris out of the air that flows into your home, however, you will want to invest in an air filtration system or air purification system. Both of these indoor air quality systems help to capture and/or destroy airborne contaminants, leaving you with cleaner air throughout your home.
3. Investing in Better Home Insulation
Last but now least, it is also a good idea to have a technician check out your home's insulation. Time and the elements can wear down your insulation, leaving you with less of a thermal barrier keeping the temperature and debris of the outdoors out of your house. You can rely on our team to help you with insulation repairs if and when they're needed.
It pays to invest in your home's indoor air quality. This can be a factor that can either help or hinder your home comfort and overall energy efficiency. What's more, better indoor air quality can help you keep your home cleaner too. Let's work together to clean up the air in your house today.
We strive to provide honest answers and solutions to the problems our customers experience while remaining highly competitive in price, and offering the fastest turnaround you can find! Schedule your indoor air quality services with Donald P. Dick Air Conditioning.