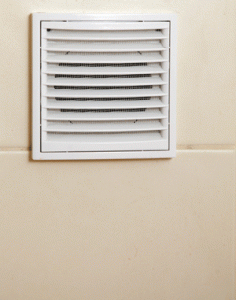 Of all the areas in your home that demand proper ventilation, your bathroom is one of the most important — and one of the most frequently overlooked. The good news is that if your bathroom ventilation isn't quite up to par, it's a relatively simple and affordable fix. Read on to learn more about why bathroom exhaust fans are so important and how to select the right one for your home.
Proper Ventilation for Bathrooms
When compared to the rest of your house, your bathroom is small, very enclosed, and exposed to high levels of moisture and humidity. This trifecta creates the perfect conditions for mold and mildew growth. Not only do mold and mildew create unpleasant odors, but they can also damage drywall and wood and even impose health issues. A properly installed bathroom exhaust fan works to counter these problems by removing excess moisture, odor, and mold spores from the space and exhausting them outside of the home.
Selecting Bathroom Fans
There are several items that you should consider before installing a bathroom ventilation system:
Airflow capacity — In order for your bathroom ventilation system to work properly, you'll need to check the fan's airflow capacity, measured in cubic feet per minute (CFM). As a rule, your fan should have 1 CFM per square foot of bathroom floor space. Those with bathrooms larger than 100 square feet will need to add 50 CFM per toilet; 50 CFM for each shower, bath, or combination; and 100 CFM per whirlpool.
Noise — If noise is a factor for you, make sure to look at the noise rating. Fans rated between 0.5–1.2 sones are very quiet, while fans rated in excess of 4 sones are loudest.
Energy efficiency — Always look for the Energy Star label for maximum energy savings.
Additional features — Savvy homeowners might also look into fans with smart features like automatic starting triggered by motion or humidity levels, built-in heaters, or lighting.
Ready to improve your home's bathroom ventilation situation? Reach out to the experts at Donald P. Dick Air Conditioning. We serve residents of the greater Fresno area.
Our goal is to help educate our customers in the greater Fresno, California area about energy and home comfort issues (specific to HVAC systems). 
Credit/Copyright Attribution: "Voyagerix/Shutterstock"