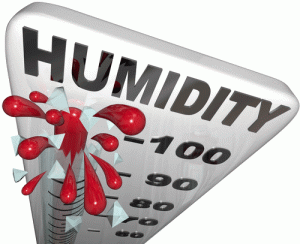 Indoor humidity is an element of your home's air quality that can be confounding to deal with. Mitigating correlating indoor air quality problems, such as increased airborne allergens, may be as simple as using a higher-efficiency HVAC filter. Using portable dehumidifiers may seem like a logical way to mitigate a humidity problem, but they are ineffective as a whole-home solution.
Left unchecked, however, high indoor humidity may cause a plethora of problems to your home structure and valuables, health, home efficiency, and your comfort. Use this guide to help identify humidity problems in your Fresno area home and implement practical solutions.
Signs of Home Humidity Problems
Mold development: If you see green, pink, or black mold anywhere in your home, you have a humidity problem. Mold may also develop in areas out of view, such as inside exterior walls, the attic, basement, and crawl spaces.
Sticky air: Is your indoor air sticky and uncomfortable during the cooling months? High indoor humidity makes the air feel warmer, which may prompt you to turn down the A/C and use more energy.
Increased allergy and asthma attacks: High humidity encourages the reproduction of many allergens. This may lead to increased allergy and asthma attacks for household members suffering from these respiratory ailments.
Condensation inside your home: Condensation on windows — especially during the cooling months — is a sure sign indoor humidity is too high. Condensation can damage wood structures and lend to mold growth.
Attic insulation: Inspect your attic insulation for mold and mildew. Replace any moldy and damaged insulation. Air-seal the attic to prevent cross-contamination with the living spaces.
Solutions for High Indoor Humidity
Fans and vents: Make sure your dryer vent and your bathroom and kitchen fans exhaust outside your home.
Ventilation: Home ventilation helps move stuffy and humid air out of your home.
Dehumidify: A whole-home dehumidifier removes excessive moisture from return airflow.
Windows: Wipe condensation from windows. If your windows are old and inefficient, consider upgrading to Energy Star-qualified windows.
If your Fresno area home has a humidity problem, contact Donald P. Dick Air Conditioning for the solutions.
Our goal is to help educate our customers in the greater Fresno, California area about energy and home comfort issues (specific to HVAC systems).
Credit/Copyright Attribution: "iQoncept/Shutterstock"