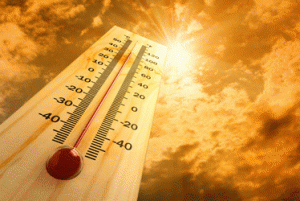 Heat gain is the amount of excess heat your home gains throughout the day. Left unchecked, it can cause your cooling costs to soar. But by keeping heat gain to a minimum, your air conditioner can cool your home more efficiently and keep your utility bills within reason. Let's look at some of the causes of heat gain.
Solar Gain
Windows contribute approximately 48 percent to the total amount of heat gain. By providing shade for the windows using awnings, natural foliage or shade screens, and by closing your curtains or blinds during the daytime, you can significantly reduce heat accumulation.
Conduction
Conduction from the exterior of your home accounts for about 19 percent of the added heat. You can reduce this by using light colors on exterior surfaces such as siding or roofing, and by adding extra insulation to your walls, ceilings and attic. You should have R-13 to R-15 insulation in the walls and R-30 or above in the ceilings and attic. Be sure your attic is properly ventilated to remove excess heat caused by roof leaks and other air leaks, which account for about 6 percent of added heat.
Appliances
Lights, electronics and appliances add up to about 14 percent of the heat generated in your home. Avoid using heat-generating appliances like dishwashers, clothes washers and the stove during the hottest parts of the day, and turn off any unnecessary electronic devices. Consider upgrading to CFL or LED lighting, which release less heat than incandescents.
Air Leaks
Heat and moisture from air leaks account for about 13 percent of the heat added to your home. Seal around windows and doors using weatherstripping or caulk, and seal any penetrations for pipes, wiring or vents in the attic or exterior walls.
For more information about reducing heat gain, talk to our team at Donald P. Dick Air Conditioning.
Our goal is to help educate our customers in the greater Fresno, California area about energy and home comfort issues (specific to HVAC systems). For more information about heat gain and other HVAC topics, download our free Home Comfort Resource guide.
Credit/Copyright Attribution: "VladisChern/Shutterstock"