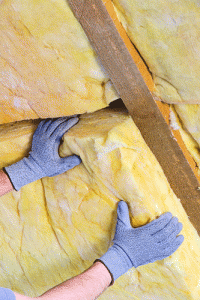 Energy costs are a concern for most homeowners. One of the most effective ways to control your energy costs is to install home insulation in certain key areas of your home. 
Best Areas to Install Home Insulation
Attic. Attics are one of the biggest culprits when it comes to wasted energy. In the winter when you're trying to heat your house, the heat rises and escapes through the attic. In the summer when you're trying to cool your house, the sun pours heat down on your roof, heating up your attic and transferring the heat into your living area.
Insulation in the attic can reduce your energy costs. One option is rolls or batts of insulation, which come pre-cut to fit the space between standard attic joists. Loose-fill insulation is another relatively inexpensive option that works well if you have wires or ducts to work around. Finally, there's foam-in-place insulation. Although it's more expensive than other types of insulation, it can be very effective in stopping air leaks.
If your attic access opens into your heated/cooled living area, make sure to insulate the back of the access. Rigid foam insulation is a good choice for this job.
Exterior walls. In addition to your attic, your exterior walls are the most important place you can add home insulation. Assuming you're adding insulation to an already built home, blown-in or foam-in-place insulation may be your best bet. Batts or rolls of insulation require removing the drywall to install. With blown-in or foam-in-place insulation, small holes are cut in the wall, the insulation is blown in, and the holes are patched again.
Ductwork. If the space your ducts run through isn't insulated, adding insulation to your ductwork can reduce your energy costs. Use insulation specifically designed for ductwork.
Special locations. Depending on your house, you may also want to insulate:
Floors above the garage
Basement walls
Cathedral ceilings
Crawl spaces
Interior walls with attic space behind them
For more information about home insulation or any other HVAC concerns, contact Donald P. Dick Air Conditioning. We've proudly served the Fresno, California, area since 1970!
Our goal is to help educate our customers in the greater Fresno, California area about energy and home comfort issues (specific to HVAC systems).
Credit/Copyright Attribution: "LianeM/Shutterstock"